First Look: Bar Mercado
The Castelluccis bring true tapas and beautiful design to Krog Street Market
Wednesday September 20, 2017 10:17 pm EDT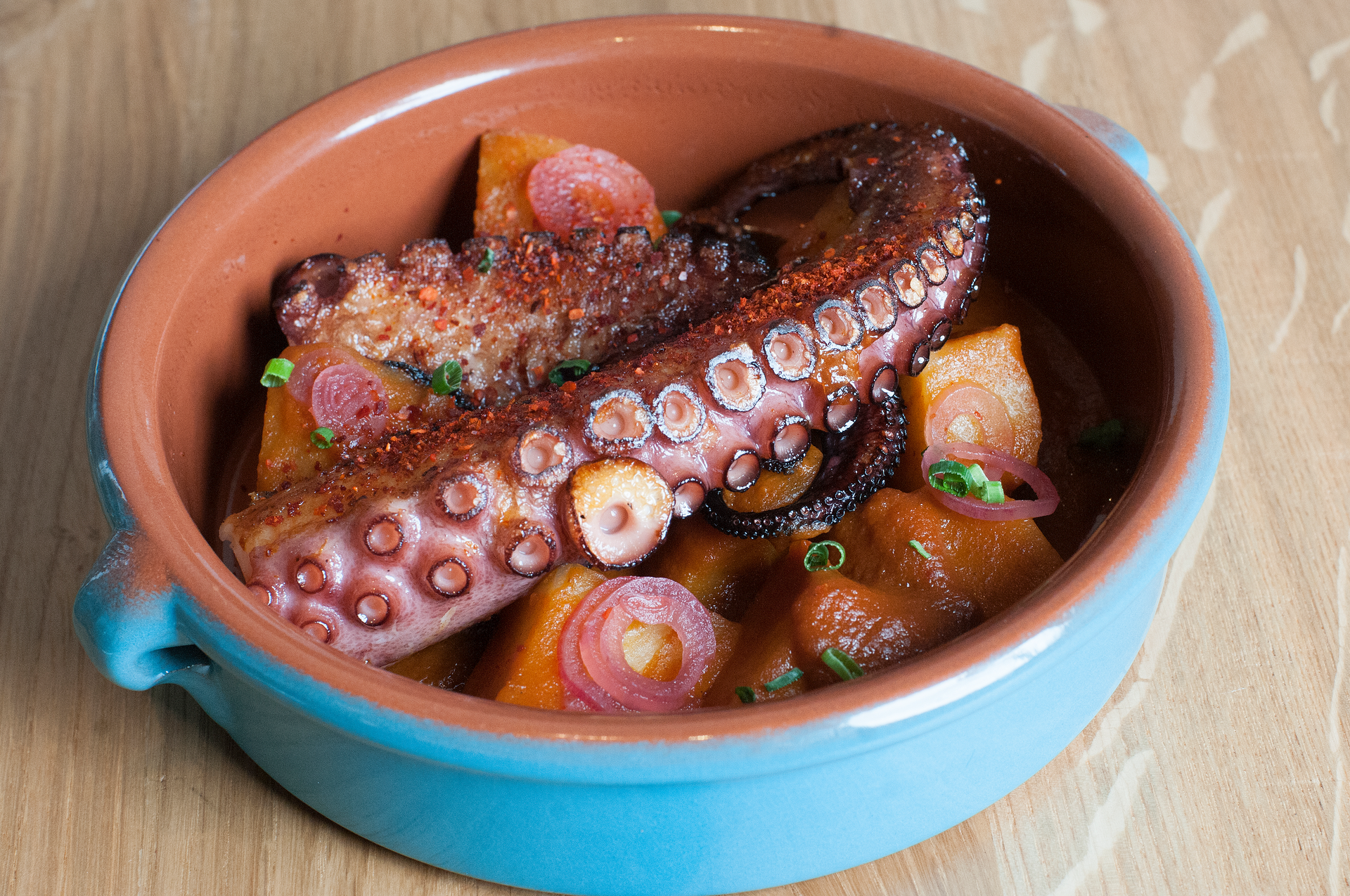 Stepping foot into Bar Mercado, it becomes immediately obvious that there's a focused vision at play. A circus ticket booth-like host stand lets us know that minimal posturing is going on and the convivial spirit of tapas is in store. The dining room, much like the menu of Spanish classics, is simple, but its essence lies in a design-forward Spanish finesse.
Castellucci Hospitality Group hired Square Feet Studio to devise the space, which is attached to Krog Street Market. Lots of exposed brick, steel and wood make up the sunken dining room and upstairs bar area. Colorful pops of mauve, red and blue abound. Orbs faceted of capiz shell dangle from an azure ceiling. Dramatic rosy curtains flank the outer edges of an open, gleaming kitchen. The bar ceiling is baby-room pink and chairs have red metal frames. A covered patio extends off of the bar and a cabinet of curiosities holds Spanish relics.
No value assignedThe tapas menu is a distillation of the Castellucci family's travels through Spain and Basque country, expressive of the multi-regional melting pot cuisine. Specifically, it points to Mercado de San Miguel, one of Madrid's oldest and most beautiful food halls. Chef John Castellucci cooks with modernity while paying homage to the flavors of traditional Spain. That vibrant market scene is interpreted here through the simple pleasures of his small bites. Prices range from $4 to $13.50 per dish, with about three dozen options to choose from.
Begin with a charcuterie board. Use the tiny pencil that comes with the list of offerings to tick off jamon serrano or acorn-fed iberico de bellota. Add Spanish cheeses, Marcona almonds or boquerones (cured white anchovies). Large selections arrive on lacquered tree cuts and smaller bits on slate trays.
No value assignedThe menu combines familiar staples like lightly crusted croquetas with a burst of b̩chamel, chicken and earthy mushrooms as well as clever modern approaches like the slider-size hamburguesa made from ground pork shoulder and iberico with manchego cheese. Whether ordering a couple items or most of the menu, the pacing is spot on. Our server, with knowledge from tasting the entire menu, was quite fond of the braised pork ribs.
A series of snacks at Bar Mercado feels like a geography lesson. The gazpacho-like tomato emulsion known as salmorejo served chilled with slivers of Serrano, chopped egg and floating beads of olive oil hails from Andalucia in southern Spain. Pulpo a la gallega is a traditional octopus dish from Galicia in the west, its tentacles braised tender with potatoes, a trickle of olive oil and a sprinkling of ruddy pimenton. Patatas bravas come from Valencia in the east. The crispy edged potatoes with a slightly spicy saffron aioli are topped with a jolt of decoration in the form of yellow, mayo-y bravas sauce. A sizzling aroma precedes gambas al ajillo, a dish from Catalonia in the north. Pair the zesty head-on shrimp, swimming in garlic and sherry in an earthenware dish, with a floral and oak-spiced glass of Muga Blanco.
No value assignedClassic tapas dishes are all about restraint and highlighting quality ingredients. My favorite dish revealed this: trucha flaky moist and golden browned trout with crusty skin skewered in pieces atop smoky paprika and red pepper chilindron sauce. A blue-gray vessel of quickly seared oyster mushrooms with sherry, bay leaf and sprigs of thyme is redolent with earthy musk. Baby artichoke hearts, or alcachofas, are crisp and tart with lemony sauce.
Castellucci's fine dining experience shows with his chicken. The spindly appendages are Frenched into plump lollipop shapes, sous vided and fried until the skin has a lacquered crunch. They are served with a red pepper romesco and sprinkled with toasted almond slices. The kids' menu features those same drumsticks, served with tomato rice, or other choices of spaghetti and meatballs or a hamburguesa and fried potatoes. This is definitely a lively and fun environment for kiddos. They'll love the plates of churros.
No value assignedThe wine list is smart and represents its homeland well. A lively cocktail listing from bar manager/sommelier Colton Wright features the Montreal, a boozy riff on the classic Toronto with bourbon, Benedictine, Fernet, chicory liqueur and bitters. Tomato King is a refreshing mixture of sweet watermelon, savory tomato water, gin and herbaceous basil. Beer ranging from PBR to local craft brews to Estrella Damm comes in six- or 12-ounce pours. A variety of sherry, Spanish dessert wines and pitchers of sangria help further express the restaurant's focused vision.


There is nuance to making small portions of classic cuisine and Bar Mercado is on pace to master the art of subtlety. Both the menu and the decor are vibrant and fresh, showcasing the essence of traditional Spain. Nothing here is overly fancy; tapas are reasonably priced and the vibe is at once inspired, casual and fun. ??Salud!
Bar Mercado, Krog Street Market, 99 Krog St. N.E., Suite V. 404-480-4866. www.barmercadoatl.com.
More By This Writer
Dinner and a show at the new Old Fourth Ward restaurant and lounge
Wednesday November 11, 2015 04:00 am EST
The Ponce City Market restaurant channels the retro-modern feel of yesteryear
Monday March 14, 2016 04:00 am EDT
Umaido's new Cheshire Bridge sister restaurant Hajime
Tuesday April 19, 2016 04:00 am EDT
Where to go when you want to drink the good stuff
Tuesday March 1, 2016 04:00 am EST
Find fancy comfort food with a side of nostalgia at Ron Eyester's latest restaurant
Thursday May 14, 2015 04:00 am EDT
Search for more by Angela Hansberger