First Look: C. Ellet's
Linton and Gina Hopkin's new SunTrust Park eatery serves classic American flavors with finesse
Tuesday October 17, 2017 10:56 pm EDT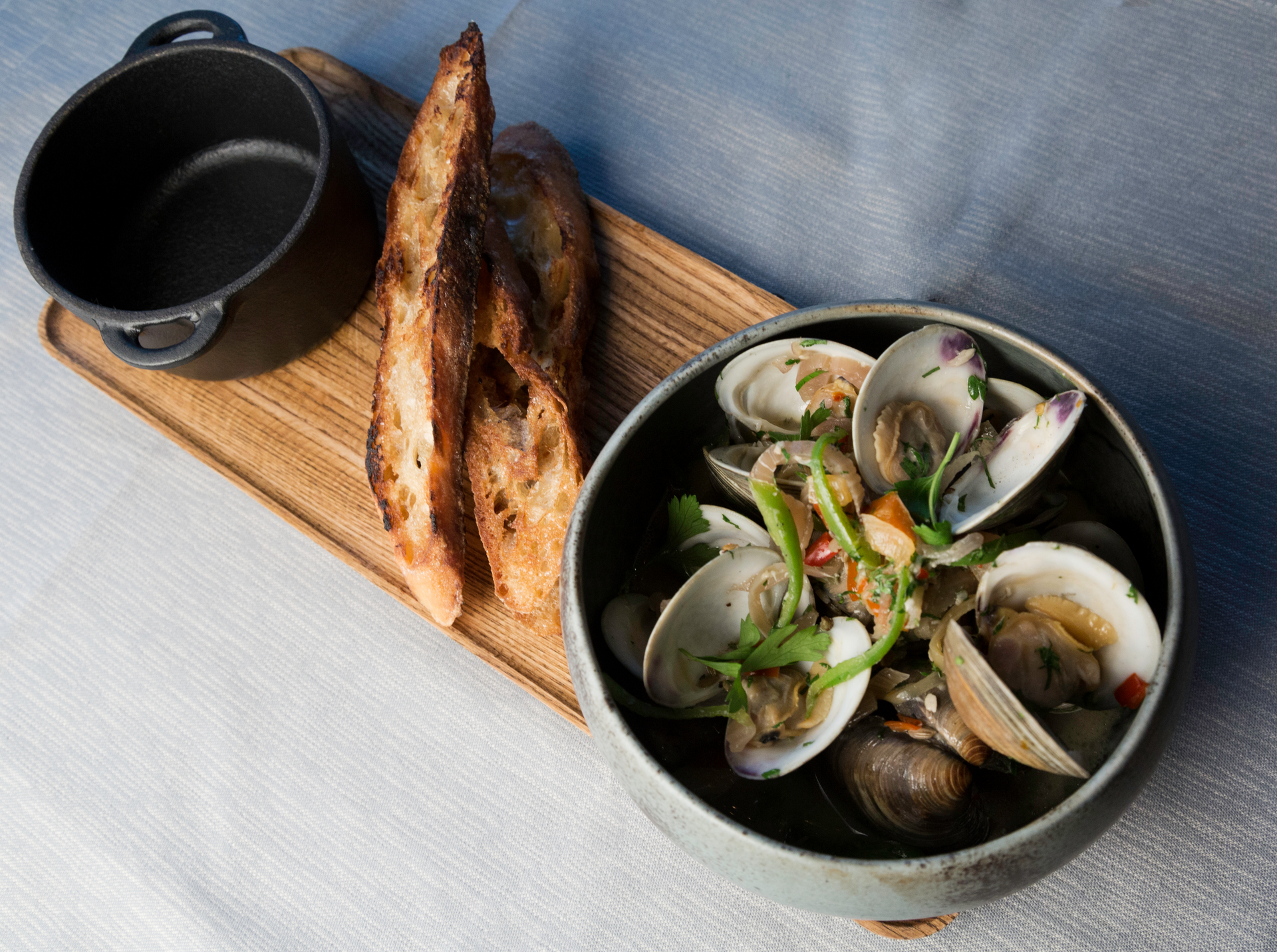 It may seem counterintuitive to venture out to a baseball stadium in Cobb County (you may have heard of it SunTrust Park?) just for a meal, but that is exactly what diners should do if they're ready for the newest venture from restaurateurs Linton and Gina Hopkins (Holeman & Finch, Restaurant Eugene). C. Ellet's, located across from the open lawn of The Battery, is a modern take on the classic American steakhouse, serving all that is delectable from the land and the water.
Everything about C. Ellet's is ethereal. The dining room d̩cor, by Atlanta design firm Square Feet Studio, marries shades of the sea with warm earth tones, and vases of white hydrangeas and orchids surround diners with casual elegance. The booths, made of buttery gray leather, invite diners to exhale before looking over a sophisticated and thoughtfully designed menu. The entire hospitality team approaches guests with warmth, knowledge, and enthusiasm, allowing C. Ellet's to achieve their refined atmosphere without a hint of stuffiness. A ceiling mural by Seattle-based artist Maeve Harris almost seems to pull the scent of fresh watery air through the room.
Long-time admirers of James Beard Award-winning chef Hopkins likely know he is also a great lover of books; he likens the restaurant to a new novel, written in the style of one of his favorite writers, Mark Twain. "I wanted to build a place that recognized the joy and power in the American vernacular,' he says. "A place where we didn't need to dumb down fine food for it to be acceptable, and we don't need to apologize for or run from the classic American foods we love: potato skins, big bold steaks, slices of cake.' This ethos stretches across the entire menu, which celebrates the kind of diversity and innovation Hopkins calls the "best America offers.' And so, it's little surprise that even the name honors Hopkins' direct ancestor, Charles Ellet, Jr., a nineteenth-century suspension bridge engineer, Union Army colonel, and contemporary of Twain himself.
No value assignedSommelier Gina Hopkins has curated an impressive wine list, and the cocktail menu compliments the range of proteins featured across each course. With its white rum and citrus notes, the Poor Fellow ($15) perfectly accents New Orleans BBQ shrimp ($16). The drink's hints of maraschino and chartreuse don't overpower the sweetly tart grapefruit, and the lightness of the white rum makes for an easy-sipping companion to the rich barbecue sauce slathered over large shrimp, served intact for the adventurous diner who doesn't mind getting her hands dirty in the name of flavor. My New Orleanian dining companion and I agreed that the only improvement for the shrimp would be an extra dollop of that smoky dark sauce for dipping.
If you've come to the Battery to watch a game and find yourself eating at C. Ellet's, executive chef Damon Wise's Sapelo clams and house-made garlic sausage ($16) is a dish that will make you forget about the opening pitch. As Chef Hopkins enthused, "Chef Wise is a master of acid,' and the rich buttery white wine sauce with paper-thin slices of fennel stalk demonstrates just how carefully Wise (formerly of New York's acclaimed Sauvage) has honed his craft. The complexity of flavor in the sausage compliments the salty simplicity of the clams, which practically fall out of their shells. And despite the restaurant's luxe atmosphere, the sauce is so perfectly balanced between the fennel's licorice notes and white wine's brightness that I doubt anyone would notice if someone slurped just a bit of it straight out of the shell.
The star of any steakhouse, however, should be the land-based proteins, and C. Ellet's has worked to source the highest quality beef and pork from around the country. The center cut filet (6 ounces for $35.75 or 10 ounces for $54.75) comes from an Iowa ranch of the 1855 Black Angus program. Though the recommended classic Bordelaise sauce ($4) has its own merit, it seems hard to improve upon the filet itself, a melt-in-your mouth steak with a subtle sear. The Puerto Rican-inspired KanKan pork chop ($45), served with caramelized peaches, Tucker Farms watercress, and mustard jus, is a bold cut of meat. Traditionally served with the belly, loin, and ribs intact, KanKan (or Can-Can) is named for the way the seared rind flairs out like a dancer's dress. C. Ellet's version is cooked confit overnight, then seared off to produce a crispy exterior, resulting in meat so tender it falls apart with a mere tap of the knife. The peaches add to the richness of the dish, and though I would have liked a bit more of the finishing savory sear to come through, the texture of the cut was so exceptional I didn't worry about that for too long.
No value assignedThe vegetable and grain sides offer a range of options. Beef fat potatoes ($9) are the potato skin's older, more sophisticated cousin. A skillet of tricolored baby potatoes contrasts nicely with the Beecher's cheddar, which adds a needed sharpness amid the whole mustard grains coated in light honey. The kitchen shows skillful restraint in the roast hen of the woods mushrooms ($10) where they let the ingredient revel in its natural earthy depth.
Though it may seem impossible, one really should save room for dessert, as award-winning pastry chef Jen Ye is here creating cakes to end all cakes. A slice of her peach chiffon cake ($9) features a traditional (and regional favorite) 18-layer base, surrounded by a peach coulis and topped with a mascarpone icing so creamy that it's almost like having cake with a side of cheesecake. Basil oil adds dimension, and being green, it obviously cancels out all the calories from the dessert.
Suspension bridges work because of their balance and flexibility, and as chef Hopkins asserts, "American food shouldn't be a museum piece; it's dynamic, thriving, changing.' C. Ellet's demonstrates this principle in every element. Is it any wonder, then, that the restaurant's namesake worked to develop those very structures standing the test of time because they can absorb more than their beauty suggests, ultimately finding strength in connection?

C. Ellet's. The Battery at SunTrust Park, 2605 Circle 75 Pkwy, Suite 400. 678-996-5344. www.c-ellets.com.
More By This Writer
Linton and Gina Hopkin's new SunTrust Park eatery serves classic American flavors with finesse
Tuesday October 17, 2017 10:56 pm EDT
Friday February 9, 2018 03:36 pm EST
Jaye Price of Castleberry Hill's Wine Shoe knows his grapes and his people |
more...
The long-awaited fast-casual joint brings innovative eats and chill backyard vibes to Chamblee
Monday September 25, 2017 05:53 pm EDT
Celebrity chef Darius Williams' new Westview eatery has cozy vibes and food for the soul
Friday August 11, 2017 08:57 pm EDT
By focusing more on its strengths, the sleek new Midtown eatery could become a neighborhood standby
Tuesday December 12, 2017 11:50 pm EST
Located at the perennially rotating restaurant corner of 5th and Juniper, the new eatery Simon's aims to do what even Ludacris couldn't: stick around in a neighborhood with a seriously ephemeral dining scene. While Midtown's restaurant landscape can often seem to depend on the Fox Theatre crowd that floods in from OTP and tourists in search of Margaret Mitchell, in-town dwellers know that... |
more...
Search for more by Gina Caison