First Look: Twisted Soul
Veteran chef Deborah VanTrece talks soul food, industry women, and moving to the Westside
It started with a strike. The year was 1993, and flight attendants were walking off the job just before Thanksgiving over unresolved issues with American Airlines. "It became this wake-up call for me," says Deborah VanTrece, a flight attendant at the time. "Like, OK, you've got the union and the management, and you do what one or the other says to do, and your whole livelihood is dependent on these other people. That didn't sit well with me."
As soon as the strike was over, VanTrece, then in her mid-30s and pregnant, decided to enroll in culinary school at the Art Institute of Atlanta. She graduated the two-year program with top marks in just over a year, and quickly got to work as a caterer. For years she juggled flying, cooking, and motherhood, working for several local companies, serving international consulate generals and prime ministers during the 1996 Olympics, and building a name for herself. Her husband at the time (this was long before she came out) was a basketball player overseas, and VanTrece would travel often to meet him, dining with local families in the many places they visited: Spain, Italy, Argentina, Philippines, a kibbutz in Israel. "We were 25 kilometers from Lebanon; you could hear bombs dropping," she recalls of the latter. "But I still gotta eat!"
In 1998, she opened her own restaurant and catering company called Edible Art in East Atlanta Village, a neighborhood that was "just starting to hop." It was there she invented the Twisted Soul Salad: mixed greens and local veggies with pecan-crusted goat cheese, cornbread croutons and a zingy cranberry peppercorn vinaigrette. "I wanted my food to be a reflection of what I've experienced in my life," she says. "Also, I was having a love affair with cornbread croutons."
She decided then that if she ever opened another restaurant, Twisted Soul would be its name.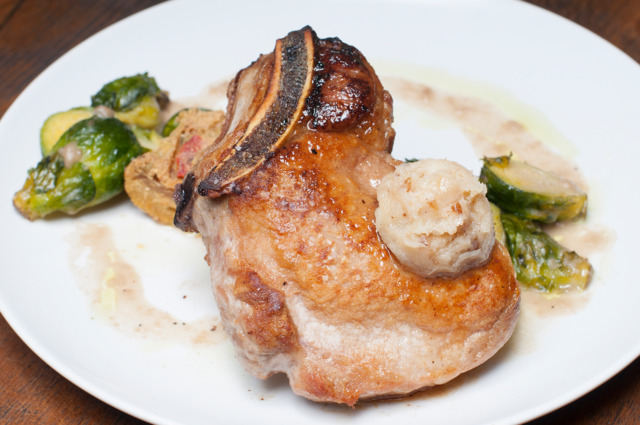 DECADENT DISH: Stuffed pork chop with bacon and BrieJoeff Davis
Born and raised in Kansas City, Missouri, VanTrece says she never associated soul food with the South until she moved here and began tracing its roots, which inexorably tangled with her own. (Her gumbo recipe, for example, comes from her Louisiana Creole grandfather.) Until then, it was just the food she knew, the food her family ate."
Growing up in the Midwest, you always hear such negative things about the South," she recalls. "But through the years I've realized the things I heard weren't true. Even in Kansas City, I thought I was moving about freely. I really wasn't because it was very segregated, but it was familiar segregation."
Upon moving to Atlanta, VanTrece felt her world open up. "There are so many African-Americans here doing everything, and that was not what I came from. The opportunities here are full and flourishing. I fell in love with the city."
In December 2014, finally making good on that salad-inspired promise of the '90s, the chef opened Twisted Soul, an upscale eatery in downtown Decatur. For a year, her globally inspired soul food quietly amassed a loyal fan base, but the following December, unable to come to an agreement on the lease, she decided to close shop. She says Decatur might not have been the ideal location, and relished the opportunity to step back and re-evaluate."
It's definitely a white male-dominated area," she says of downtown Decatur's chef scene. "They're good, but it is their world. And here comes this little African-American lesbian girl. So it was awkward at times and sometimes I did feel as if they looked at me like antennas were growing out of my head. I'm like: I'm doing the same thing that you're doing. I'm working hard, I've been to school; we're all doing the same thing."
In many ways, the neighborhood seems a microcosm of Atlanta's larger culinary scene, where the most powerful and celebrated chefs are nearly all white and male.
"Sometimes I sit and wonder how in the hell did this happen," says VanTrece with a laugh. "My dad could cook, but I grew up with the ladies cooking. So, how have we gotten to the point where women are looked down upon in the kitchen? I don't understand that at all."
At 57, VanTrece has been cooking longer than most of Atlanta's top chefs have been alive, but she still sometimes feels like a bit of an outsider, primarily because of her gender. She sighs, her molten brown eyes large behind cat eye frames, her voice slow and deliberate like a classic radio announcer's: "I've been doing this a long time, and it's not that I haven't gotten recognition because I have gotten quite a bit throughout my career. But there are a lot of great female chefs, and sometimes I meet them and they're real spunky, but sometimes I feel like, you gotta lift your head up. I feel like they're carrying the weight of the males on their shoulders."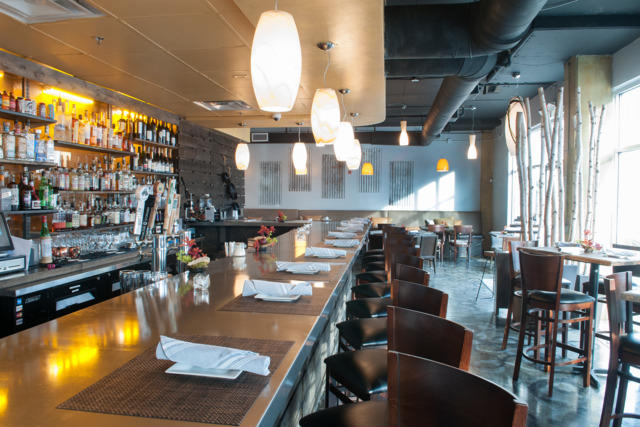 SOUL CHIC: Twisted Soul's interior is modern with down-home touches
Joeff Davis
This past December, almost a year to the day after her Decatur space closed, VanTrece returned to the restaurant scene with Twisted Soul Cookhouse & Pours on the Westside. The new location carries over a few staples of yore — including the famous fried chicken, fluffy shrimp and crab fritters, and namesake salad — but offers plenty of new dishes, which will change with the seasons. "People always ask me what is my favorite thing to cook," VanTrece says. "My answer is: whatever I didn't cook yesterday."
Taking over the former Bone Lick BBQ space just past the Goat Farm on Huff Road, Twisted Soul joins a growing number of hip eateries and boutiques in an area that was not long ago an industrial wasteland. VanTrece appreciates the diversity of the area, the fact that its vibe is still a work in progress. Out front is a small street-facing patio; inside is sleek and modern — large plate glass windows, planter full of skinny birch logs, long central bar with bottles sexily backlit. Touches of down-home décor add character: squares of corrugated metal and cast iron pots adorn the walls, dark wooden slats add texture behind the bar.
VanTrece's wife, Lorraine Lane (the couple made it official in a surprise wedding ceremony last spring), holds down the cocktail program with a fanciful menu centered on house-infused moonshines and bourbon. "She's become the mad mixologist, and I'm the mad chef," VanTrece says. Try the Lemon Basil Shiner for a tart blend of American Born White Lightning muddled with Finch Farms basil and lemon zest, or For the Love of K. Berry (both $10) with Woodford Reserve, blackberry and orange liqueurs and a nip of sour. A moonshine flight will set you back $20 for a quartet of sample-size house blends — pineapple, sweet tea, spicy watermelon and lemon — prettily presented on a wooden paddle.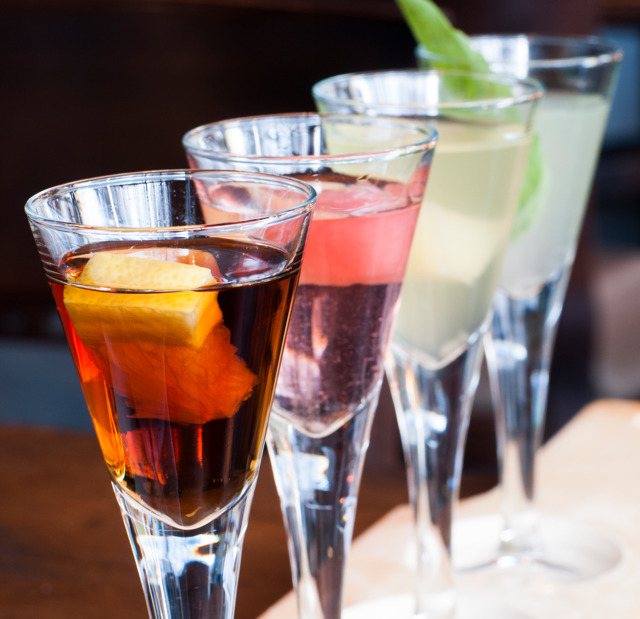 FLY ME TO THE MOON: Lorraine Lane's house-infused moonshine flight
Joeff Davis
Twisted Soul serves lunch, dinner and brunch on weekends (featuring limitless mimosas or Bloody Marys for $15). Daily blue plate specials give VanTrece's kitchen protégés a chance to flex their culinary skills, and on Thursdays, there's a family dinner for $10 a head. The menu reflects both the atmosphere and the restaurant's name: modern and playful yet rooted in tradition. Rich in flavor, history and calories.
Offerings on our dinner visit were wide but cohesive: small plates include smothered coconut chicken wings over jasmine rice ($9), a rich gumbo ya ya packed with seafood and spicy sausage ($13), and sticky sweet tea marinated baby back ribs ($14). Fried green tomatoes ($7) are served with local goat cheese and a tangy roasted red pepper aioli (add bacon for $2).
Mains include pan-seared redfish with jambalaya grits, moonshine butter, and kale and cabbage coleslaw ($22), duck confit with sweet potato dumplings, country cream gravy and winter greens ($22), and even a vegan pasta bowl with spaghetti squash and collard green pesto ($17).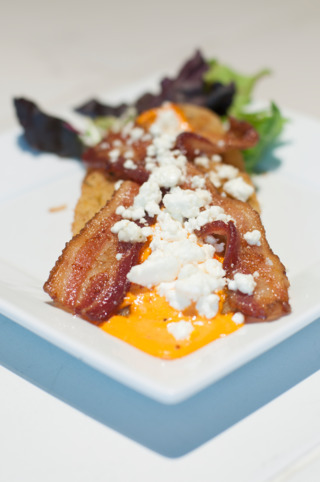 SOUTHERN PLATE: Fried green tomatoes with goat cheese and bacon
Joeff Davis
VanTrece's fried chicken ($17) comes from a recipe passed down by her grandmother. Marinated in plenty of spices then pan-fried in cast iron, it arrives beautifully crisped on the outside with a juicy — but not greasy — interior. Beneath it, a bed of classic fixings, each with its own modern twist: three cheese mac made from orecchiette, jalapeño-kissed greens daintily wrapped up like a spring roll, a tangy sweet potato apple chutney that plays on traditional candied yams and pulls the whole plate together.
Pork chops ($24) are the menu's most decadent offering: cooked slow, stuffed with a luscious lava of bacon and Brie, and paired with a scoop of fig spoon bread, salted caramel pecan butter, and tender roasted Brussels sprouts. If you have room (good luck), try the peach cobbler or VanTrece's mother's signature chocolate chip cookie with bourbon ice cream (both $8) for dessert. The chef recalls finding the handwritten cookie recipe among her mother's things soon after her passing. "When I tasted it, I started crying because it reminds me of my mom, and the happy times. I like to use food as reminders. I try to take people back to happy."
VanTrece recognizes that upmarket soul food is trending right now, and that chefs have a tendency to jump onto cultural bandwagons. But she doesn't mind. In many ways, it seems an appropriate resurgence, given current events: a cuisine born from resilience in the face of oppression.
"It goes in line with a lot of things that are happening with food in general," she says. "We're learning not to be as wasteful and to make use of a whole pig. These are things that are really the basis of soul food. It is no surprise that as slaves we didn't get the top choice of the meat. We got what was to be thrown away, but we figured out how to take that and make something good out of it. And that's a good way to live your life right now: to take something and make something good out of it."
More By This Writer
Wednesday April 4, 2018 04:13 pm EDT
Wednesday December 20, 2017 08:34 pm EST
Need some last-minute gift ideas for the foodie in your life? Atlanta chefs got you covered |
more...
Tuesday December 12, 2017 11:16 pm EST
Tuesday December 12, 2017 11:16 pm EST
Wednesday November 29, 2017 04:26 pm EST
Search for more by Hilary Cadigan