First Look: Petit Chou
French meets Southern cuisine with a side of feminism at Memorial Drive's cozy new bistro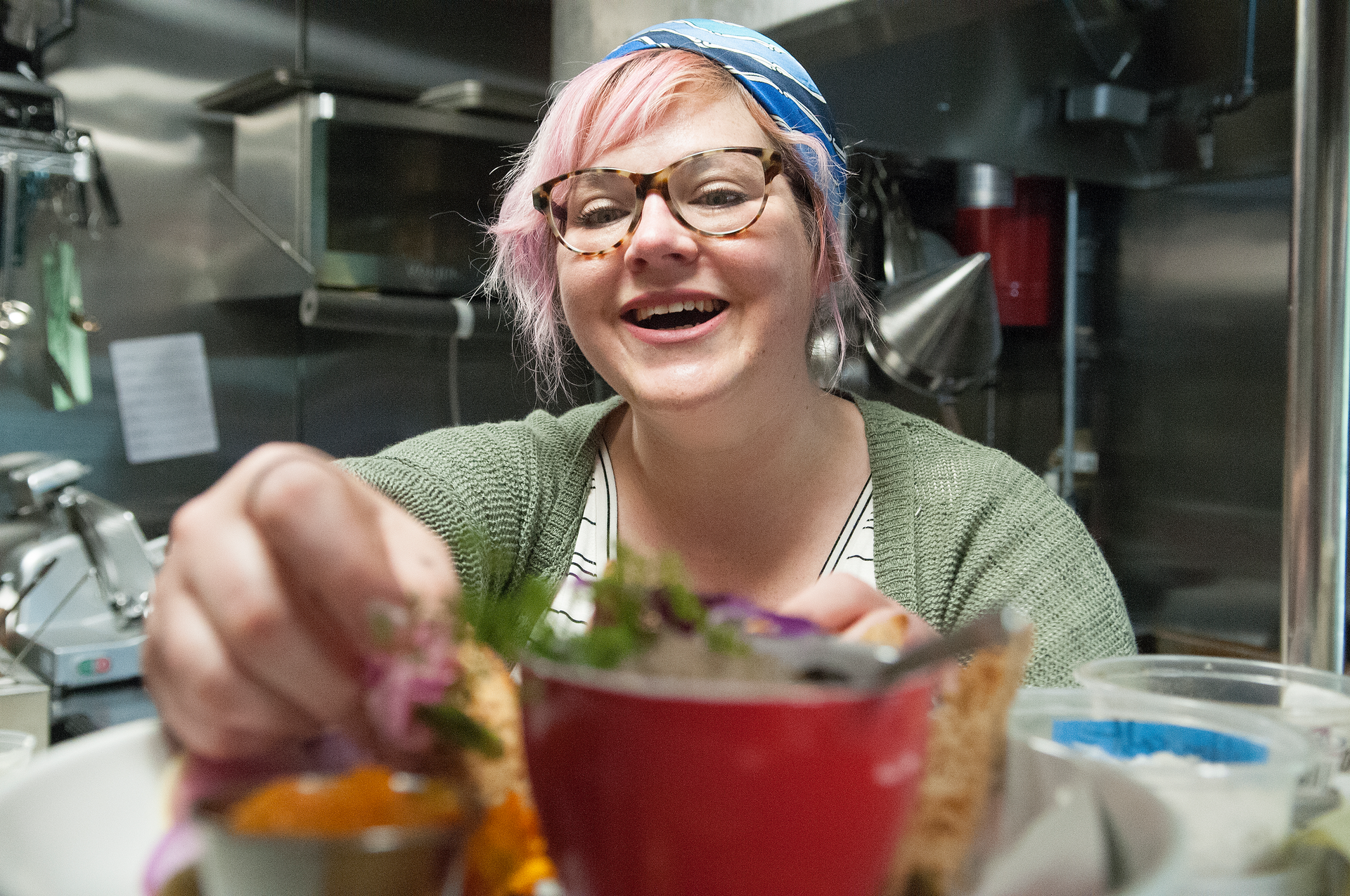 bBefore I came up with the name Petit Chou, I referred to it as my little idealistic, egalitarian-dream, feminist anarcafC),b says Diana Presson Eller, the bubbly, pink-haired executive chef at Memorial Drivebs newest bistro. bI felt it was important for my concept to not only feature fresh, locally and responsibly sourced food and beverages, but also that it jibe with my personal principles, management style and core values.b
Painted periwinkle with a large portrait of a woman by Chicago-based muralist Hebru Brantley gracing one side, Petit Chou (whose name is pronounced like the sound a train makes and means "little darling" in French) does indeed feel like a carefully crafted dream come true. The building is owned by the Fisher/Van Beck family, who specialize in historic restoration. Inside, a central bar made from beams and steel doors repurposed from the old Eyedrum Gallery anchors the space. Outside, a shaded patio with large tables overlooks an early-stages kitchen garden, blooming now with wildflowers that the staff picks and places into tiny glass vases on each table. Raised beds for herbs, lettuce, edible flowers and a fig tree are in the works. Right now, produce comes from Love is Love Farm, Hungry Heart Farm and the Turnip Truck. Eventually, the restaurant hopes to source more from its own backyard.
The vibe is homey and warm, the attention to detail distinctly feminine. Petit Choubs front-of-house staff is made up almost entirely of women, who run the place with friendly grace and a certain swiftness. Hip and new as it is, the cafC) feels like a well-oiled machine. (Hi America b this is what happens when you put women in charge.)
No value assignedRight now, Petit Chou is open only for breakfast, coffee and lunch, but Eller and her team will soon expand to dinner and a full bar menu. bWebre playing the long-game,b she says. bNo need to put the horse before the cocktail!b So far, so good. The cuisine is as carefully crafted as the vibe, French-meets-American-Southern fare with a gourmet spin that is surprising given the prices.
To start your day right, the Cabbagetown breakfast bowl ($10.50) is a must-try: a bed of light but creamy grits topped with gooey Tillamook Farms sharp cheddar, your choice of protein, a perfectly poached egg, lemony arugula and bright tomato concasse.
The avocado toast on sprouted grain with house boursin sounded delicious b and looked delicious, too, as I watched the table next to ours 86 the last one like a couple of wildebeests. But I was quickly placated by the Croque Monsieurb ($8.50) b sprouted grain with seedy Dijon and thin-sliced ham, topped with a blistered blanket of torched gruyere that oozed oh so good with each bite. Wash it down with a tall and refreshing glass of house-made turmeric strawberry limeade or blueberry ginger ale with apple cider vinegar ($4.75 each).
Chicken liver mousse is available at both breakfast and lunch: a savory cloudburst of offal, port, sherry, thyme band magic!b according to Eller. I believe her, though she later admits that bmagic = 83 percent fat European butterb (same, same). The portion is huge for the price ($7), easily shareable between two or three people, and comes all cute in a coffee mug, surrounded by a veritable picnic of dipping vessels: seedy toast, apple slices, radishes, cornichons, nuts b whateverbs in stock and in season.
No value assignedbMy mother was and is my greatest culinary inspiration,b Eller tells me over email. A talented chef, her mother Kathy Kupka attended college in Massachusetts and took cooking classes with the late, great Julia Child in Cambridge soon after she graduated. bShe was always a gifted cook/artist, but when she told her father that she wanted to go into the arts, she was told that bprofessional womenb were either secretaries, nurses or teachers, and she was smart, so she could be a nurse or a teacher,b Eller continues. bWTF?!b
Undeterred, Kupka went on to get her masterbs in arts in education. When the family moved south to Huntsville, Alabama, in 1990, she started a small catering business and later a high-end Mediterranean restaurant. Eller started working for her mom at 13, developing a newfound passion in the process. bI was smitten,b she says. bAll I wanted to do was cook, and be afforded the dignity to express my art and craft through food.b
Today, at Petit Chou, Ellerbs passion shows, right down to the details. bI take sandwiches very seriously,b reads the lunch menu, and itbs no lie. All come with fresh picked field greens from Hungry Heart, dressed in Ellerbs motherbs lemon vinaigrette. Some are named after people Eller loves. The Sarah-witch ($12.50), for example, refers to one of her best friends, SarahB LoveB Leath:B bShebs a little sweet, savory and witchy; some call her the quiet storm. Shebs also a multitasking industry mom, filled with heart and style.b
No value assignedThe namesake fits the bill: a hearty Southern baguette layered with brie, sweet, crisp slices of Beech Creek pink lady apples, shaved ham, arugula, and house preserves (strawberry, on my visit). Itbs a study in balance b the salt of the ham mellowed by the sticky sweetness of the preserves; the fresh bite of apples softened by the bloomy brie.
For Eller, cooking is a form of empowerment. bThe story that my mom had told me, about being laughed at when she said that she wanted to be an artist, just really stuck in my craw,b she recalls. bThatbs when I realized that everything was not okay, and our society is really slanted and merciless.b
Petit Chou is her chance to tip the scales, at least in one small way, which is why Eller takes great care to provide her employees with a living wage and create a space where everyone is treated with dignity, care and respect. bItbs our mutual respect philosophy and people-over-profits company culture that sets us apart in an industry (and a society, for that matter) that works so very hard to squeeze every penny out of each person,b she says. bCommoditizing people just doesnbt make sense to me.b
Petit Chou. 662 Memorial Dr. S.E. 470-270-8996. www.petitchouatl.com
More By This Writer
Wednesday April 4, 2018 04:13 pm EDT
Wednesday December 20, 2017 08:34 pm EST
Need some last-minute gift ideas for the foodie in your life? Atlanta chefs got you covered |
more...
Tuesday December 12, 2017 11:16 pm EST
Tuesday December 12, 2017 11:16 pm EST
Wednesday November 29, 2017 04:26 pm EST
Search for more by Hilary Cadigan